The next big thing is here
Clubhouse – and just like the man who might have invented fire and is pitching it to his fellows, we don't know much about it yet. If you didn't hear about it. Don't worry we are in the really early adopter trendsetter phase and you have every right to ask yourself "What's that again?"  T3N put together a what is it that might interest you.
Vogue wrote about it: "Drake, Oprah Winfrey and Virgil Abloh Are Fans: Here's Everything You Need to Know About Clubhouse… 
…
What kind of conversations are being had on Clubhouse?
A dizzying bringing together of live podcast-style conversations, panel discussions, networking opportunities (some savvy people are already swapping 'influencer' for 'moderator') and advantageous multiple-room use (locked and private options are available so you can talk to pals too), the social-media app mimics real-life interactions.
Launched in April, it's continuing its global rollout having been valued at an estimated $100 million in May 2020. Recording any conversation is strictly forbidden, meaning your encounters with VIP members or general conversations are protected.
Who created the Clubhouse app?
Developed by Silicon Valley entrepreneur Paul Davison and ex-Google employee Rohan Seth, the app received approximately $12 million in funding from the capital firm Andreessen Horowitz in May and has continued to soar. While the app can only house iPhone users for now, its expansion is imminent (it currently has 600,00 users). A new update means members can leave the app running and listen to conversations while making dinner/ordering from Caviar…."
Personally, I see clubhouse as the democratization of podcasts, summits, and talk(shows). Public but not overcrowded. In another (filter-) bubble of like-minded people given the ability and option to talk. The Spiegel already put this into a negative direction by calling it "an elite circle thinking they are the world" but I tend to differ here: "It's such a high quality of people"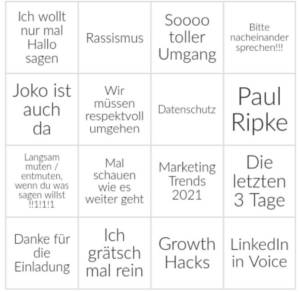 This post of Agentur Boomer probably sums it up rather nicely.
I wanted to get in some of the questions that I read rather often in the last few days and give an opinion on them:
But the is actually a much more interesting question for me: 
How can it be monetized? And how can this happen for everyone involved? For the content creators, brands, and of course for Clubhouse itself?
Let's look into these three, one at a time:
For creators. 
Clubhouse offers no native monetization features for now, but Content Creators can simply use it as another channel while monetizing with 3rd party services e.g. their existing Patreon account. To make it interesting for followers Content Creators might create a new Patreon Tier that offers to participate directly in a talk or even as a moderator.
Also, the clubhouse can of course be monetized with classical audio formats we might know from radio or streaming formats. So sponsors that are announced at the beginning of a live podcast or during the session. Audio spot interruptions (even though they are probably not so good for the audience and the flow of a session). Or also partnerships bringing us to
Cross formats. A live podcast on clubhouse combined with e.g. a twitch stream – then offering the full bandwidth of media formats.
Recording the sessions and publishing them to Spotify might also be a potential way to move forward.
Clubhouse also might introduce exclusive talks Creators can sell tickets to.
For brands.
Clubhouse offers first-mover potential. So get in there and experiment with it. if it fits the brand. However, besides that brands can be on the other side of creators just as in every other social network. Same risks, same advantages attached.
It's super easy – create a room. Invite some people for the talk. Spread the message through your existing network channels from Facebook to CRM and start.
It creates real unfiltered (in a positive and negative way) interaction. In classical social media, we always have to wait for a reaction from the audience. Live streams like twitch changed this but mainly in written form. Here we can start a real discussion in real-time with potentially tons of opinions.
For clubhouse.
Monetization opportunities for clubhouse are numerous and let's start with a maybe not so obvious one. Paid banners. It's still an app so classical banner advertisements for product promotion on the screen should be rather near.
Promoted talks. Content creators, media outlets, and brands might want to sneak their topics into the "explore" screen of users and are probably going to be eager to pay for this. So once again in time, you will pay for visibility.
Audio spots. The Clubhouse also might opt into classical audio spots – or even into a Spotify freemium approach. Join a conversation for free if you listen to a spot before doing so – or – pay a monthly subscription fee to move around without ad-interruptions.
Clubhouse might also create exclusive talks and sell tickets to them – after all, we arrived in the time of virtual events. Here content creators would be paid for their appearance.
There's a ton more imaginable for everyone being involved. However, it goes. I am excited to see what's going to happen. Happy to hear your opinion and feedback on this one – preferably on the LinkedIn Post I will share it with.
Best.
B